As if coping with pain and other common fibromyalgia symptoms weren't bad enough, people with fibromyalgia often develop complications, such as:
restless leg syndrome, in which you feel pain, tingling, and other unpleasant sensations in the lower limbs, which are only relieved by movement
irritable bowel syndrome (IBS), a gastrointestinal condition that causes abdominal pain, bloating, and changes in bowel habits (such as alternating periods of diarrhea and constipation)
The medications your doctor prescribes for pain and other common symptoms of fibromyalgia may not bring relief for complications such as restless leg syndrome or IBS. If you develop these or other complications, tell your doctor soon.
Continue Learning about Fibromyalgia Complications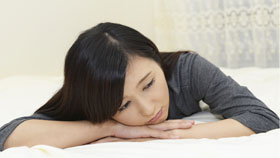 People who have fibromyalgia frequently complain of a variety of symptoms that affect other parts of the body. Many people complain of gastrointestinal issues and restless legs syndrome (RLS). Additionally, the chronic pain and di...
scomfort of fibromyalgia may lead to depression.
More