The reasons that fibromyalgia is frequently dismissed or misdiagnosed are complex. For starters, there is no blood or imaging test (such as an X-ray or MRI) that doctors can use to diagnose fibromyalgia. Doctors must determine whether a patient has fibromyalgia based on his or her symptoms. Yet fibromyalgia symptoms such as pain and fatigue mimic those of many other conditions, such as arthritis and depression. For these reasons, a patient with fibromyalgia may see several physicians before he or she is accurately diagnosed.
Continue Learning about Fibromyalgia Diagnosis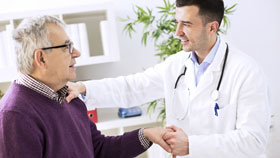 Fibromyalgia is a difficult condition to diagnose because there is no blood or imaging test for it. Many doctors still use a tender points test to help diagnose the condition. Testing is often done to rule out other conditions tha...
t could cause pain, including arthritis, infections and Lyme disease.
More