The reasons that fibromyalgia is frequently dismissed or misdiagnosed are complex. For starters, there is no blood or imaging test (such as an X-ray or MRI) that doctors can use to diagnose fibromyalgia. Doctors must determine whether a patient has fibromyalgia based on his or her symptoms. Yet fibromyalgia symptoms such as pain and fatigue mimic those of many other conditions, such as arthritis and depression. For these reasons, a patient with fibromyalgia may see several physicians before he or she is accurately diagnosed.
Fibromyalgia is extremely difficult to diagnose because the medical community still does not definitively know what causes it. It remains a common, chronic, generalized pain syndrome of unknown origin. The generalized aches, pain, and stiffness combined with the diverse symptoms can make fibromyalgia simultaneously one of the most disabling and least understood illnesses.
Additionally, doctors within the medical community do not agree on an objective method of diagnosis.
In 1990, the American College of Rheumatology developed diagnostic criteria for fibromyalgia. They concluded that fibromyalgia is diagnosed by identifying certain trigger points on the body. It is important to understand that fibromyalgia is a diagnosis of exclusion; meaning that doctors try to rule out anything else that may be causing the pain.
If the patient reports experiencing whole body pain for at least three months, the physician may conclude (after ruling out other possible conditions) that fibromyalgia is the culprit. To confirm the diagnosis, pressure is applied to 18 tender points - points where tendons attach to muscle. If the patient affirms pain definitively in at least 11 of 18 points, fibromyalgia can be diagnosed.
There are some in the medical community who disagree with this type of diagnostic criteria.
A combination of all these factors makes it easy for doctors to miss the diagnosis of fibromyalgia.
Continue Learning about Fibromyalgia Diagnosis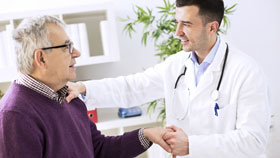 Fibromyalgia is a difficult condition to diagnose because there is no blood or imaging test for it. Many doctors still use a tender points test to help diagnose the condition. Testing is often done to rule out other conditions tha...
t could cause pain, including arthritis, infections and Lyme disease.
More