The way in which fibromyalgia is diagnosed has changed over the years. For a long time, doctors diagnosed fibromyalgia if people had certain painful points on their body. But this is no longer how they make the diagnosis. There is new, complex criteria used to diagnose fibromyalgia. Essentially, if you hurt in many body parts, have signs of nonrestorative sleep that last for more than three months and no other explanation for your symptoms, then you have fibromyalgia.
However, if you hurt in just a few of body parts but have very prominent signs of nonrestorative sleep, you also may be diagnosed with fibromyalgia.
Continue Learning about Fibromyalgia Diagnosis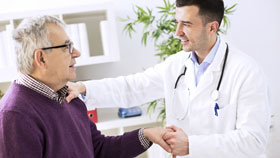 Fibromyalgia is a difficult condition to diagnose because there is no blood or imaging test for it. Many doctors still use a tender points test to help diagnose the condition. Testing is often done to rule out other conditions tha...
t could cause pain, including arthritis, infections and Lyme disease.
More