Middle-aged people, especially women, are at the highest risk for developing fibromyalgia. The average age at diagnosis is 45. As you get older, the chances of getting fibro also increase, according to the Centers for Disease Control and Prevention. However, some people over 60 may get misdiagnosed with rheumatoid arthritis (an inflammatory auto-immune disease) or polymyalgia rheumatica (a painful condition with similar symptoms to fibro), which doctors may think are more common in people over 60.
You may think that only adults get fibromyalgia, but that is incorrect. Fibromyalgia can occur in anyone at any age. Even kids are diagnosed with this painful syndrome. Around 3% to 5% of the US population has fibromyalgia. More women are diagnosed with fibromyalgia, though it is not uncommon for men to experience constant muscle pain, fatigue, sleep problems, and depression–all linked to fibromyalgia.
The risk of fibromyalgia increases with age. Many people who are diagnosed with fibromyalgia develop symptoms for the first time in their middle years, though this condition can strike at any age. Women are at the greatest risk for fibromyalgia. In fact, 80 percent to 90 percent of people with fibromyalgia are women. Other conditions that become more common with age, such as arthritis, can mimic the symptoms of fibromyalgia.
Continue Learning about Fibromyalgia Causes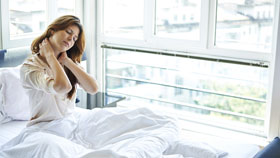 One of the most common risk factors for fibromyalgia is experiencing some type of physical or emotional trauma, and there is some indication that genetic factors also may play a role. Patients with sleep disorders have increased r...
isk, and poor sleep habits are related to fibromyalgia flares.
More