It is common for people with fibromyalgia to feel socially isolated. Flare-ups and pain can make it hard to keep social engagements. However, complete social isolation is more often associated with depression or anxiety. While fibromyalgia can make you feel depressed at times, people with fibromyalgia can lead happy and full lives and should not allow the condition to cause them to be alone.

If you feel socially isolated because of your fibromyalgia, talk to your doctor or healthcare provider about possible solutions. Help is available. You can live with fibromyalgia and have a good quality of life.
Dr. Richard Stoltz, the director for military and family health at the National Naval Medical Center in Bethesda, Maryland, comments, "The failure to acknowledge the potential difficulties of adjusting to changes can contribute to a person becoming overwhelmed."

Seattle-based fibromyalgia expert Dr. Patrick Wood offers more wisdom, "I think there's a risk in thinking that fibromyalgia is just an abnormal type of depression. Anxiety is a much more common part of living with fibromyalgia than 'depressiveness.' Anxiousness has a great impact on the daily functioning of fibromyalgia patients. It's not unusual for anyone with a chronic, disabling condition to become discouraged."

You can move beyond depression by proactively arming yourself with medical knowledge about fibromyalgia and making healthy lifestyle changes. Seek professional help if you have suicidal thoughts, your depression persists more than two weeks, or you have no one to talk with.
About 20% of people with fibromyalgia (FM) have a co-existing depression or anxiety state that needs to be appropriately treated with therapeutic doses of antidepressants or anti-anxiety drugs, often in conjunction with the help of a clinical psychologist or psychiatrist. Basically, people who have a concomitant psychiatric problem have a double burden to bear. They will find it easier to cope with their FM if the psychiatric condition is appropriately treated. It is important to understand that fibromyalgia itself is not a psychogenic pain problem, and that treatment of any underlying psychological problems does not cure FM.
Pain-induced mood swings are more than a nuisance. They can lead to clinical depression or anxiety, two mood disorders commonly seen in fibromyalgia patients. Sometimes antidepressant medications -- often prescribed in lower doses to treat fibromyalgia pain -- may also help reduce symptoms of anxiety or depression.
Depression and/or anxiety have been found to be in 30-50% of patients that have been diagnosed with fibromyalgia. Mood disturbances and difficulty concentrating have also been attributed to fibromyalgia, but are also common complaints with depression. It is important to be aware that depression is often seen with fibromyalgia, so that it can be addressed as well.
There is an association between fibromyalgia and depression. Depression and anxiety are included in the American College of Rheumatology criteria and clinical features of fibromyalgia. In four large clinical studies, 34% of patients with fibromyalgia were also found to have depression. It is important to recognize the link between fibromyalgia and depression, so that you may seek appropriate treatment from your doctor, including antidepressants.
Depression and fibromyalgia often go hand in hand. But it's the classic chicken-and-egg problem: What came first? Chronic pain, waking up feeling tired, having trouble sleeping, and other symptoms of fibromyalgia are pretty debilitating, and can often contribute to depression.

But the more we get to understand how the brains of people with fibro are wired differently, the more we realize that the connection might go the other way too. The same imbalances of brain chemicals that make you more sensitive to pain signals may also make you more likely to develop depression. The important thing to remember is that the things that help with your pain and fatigue may also help with your depression. If you are depressed, make sure you get help for your depression as well as your fibromyalgia. Working on either condition will help you solve the other one.

Yes, depression is a common symptom with fibromyalgia. Sometimes depression leads to changes in the chemistry of the brain. Or depression can cause abnormalities of the sympathetic nervous system that result in the release of substances that cause more sensitivity to pain. It is thought that the ongoing chronic pain of fibromyalgia may cause feelings of depression. Many chronic illnesses can lead to depression if the person has ongoing pain or other symptoms that disrupt their quality of life. With fibromyalgia, it is easy to miss the signs of depression. That's why a visit to the doctor to discuss the symptoms of fibromyalgia is vital to getting relief. There are newer medications available that treat fibromyalgia pain and depression, so talk with your doctor about your feelings and symptoms.
Although one out of eight people with fibromyalgia also have depression, these are two very different illnesses. Biochemically, for example, adrenal stress cortisol levels tend to be lower in fibromyalgia, but elevated in depression. Basically these are two very different illnesses.
This is more likely a result of the frustration of the widespread pain syndrome, the lack of quickly diagnosing the illness, or the chronic nature of the syndrome.

It is not clear that depression causes fibromyalgia or fibromyalgia has depression as a part of the syndrome.
Continue Learning about Fibromyalgia Causes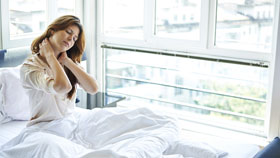 One of the most common risk factors for fibromyalgia is experiencing some type of physical or emotional trauma, and there is some indication that genetic factors also may play a role. Patients with sleep disorders have increased r...
isk, and poor sleep habits are related to fibromyalgia flares.
More