While it's not set in stone, some researchers believe that fibromyalgia is the result of a genetic tendency; therefore, just like you inherit your mother's blue eyes or your father's black hair, you can inherit the tendency to have fibromyalgia.

These researchers believe that when someone with a genetic tendency to fibromyalgia is exposed to emotional or physical stress like an illness, accident or emotional crisis, there is a change in the body's response to stress. This change may cause a higher sensitivity of the entire body to pain.
Genes appear to play an important role in fibromyalgia, so you could be genetically predisposed to fibromyalgia.

Researchers have found that some people with fibromyalgia have genes that affect the way the body transmits pain signals. These genes affect brain chemicals such as serotonin, dopamine and catecholamines that control the experience of pain. But while you can always blame mom for giving you that mullet hairstyle when you were six, don't blame her for giving you fibro. Just having a genetic predisposition doesn't mean you'll get fibromyalgia. A trigger such as a car crash or an illness can bring it on.
Fibromyalgia can be associated with genetic factors and thus may be hereditary. Genetic factors seem to play a role in this chronic pain syndrome.
There is evidence that show that fibromyalgia might have some genetic components to it. It has been found in clusters in family members of sufferers. The way this is passed on is still unknown, but researches are showing that it might involve multiple genes, which are not just specific for FM only.
About half of people with fibromyalgia or chronic fatigue syndrome have another family member who also has it. As most people have a lot of family members, this means that the child of a woman with fibromyalgia or CFS still has a very low risk of also getting it.
Studies have shown that 28% of people born to a mother who had fibromyalgia also had the disease, as did 26% of blood relatives of someone with fibromyalgia. Some people have argued that you don't inherit a susceptibility to fibromyalgia, but rather that you learn to talk about having pain all over your body when you grow up in a family in which other people talk about widespread pain.

This argument was debunked by a large study that evaluated fibromyalgia in relatives of people with two different types of chronic widespread pain. They looked at 533 relatives of people with fibromyalgia and 272 relatives of people with rheumatoid arthritis. Among the relatives they were able to interview, fibromyalgia could be diagnosed in 19% of those with an affected relative and in only 4% of those related to someone with rheumatoid arthritis. So, if you have a relative with fibromyalgia, you're over eight times more likely to also have fibromyalgia yourself than if your relative had rheumatoid arthritis.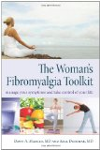 Fibromyalgia remains a mysterious disease. In this video, family medicine specialist Dr. Jennifer Caudle explains what researchers think about about whether your genes play a role.
The genetics of fibromyalgia have not been fully comprehended, but there appears to be a genetic predisposition that is triggered by an environmental factor. Watch as rheumatologist Natalie Azar, MD, explains how genetics and fibromyalgia are linked.
Continue Learning about Fibromyalgia Causes