Irritable bowel syndrome (IBS) sometimes accompanies fibromyalgia. If patients have frequent gastric upset–such as constipation, diarrhea, painful gas or abdominal bloating–they should ask their physician whether they could be suffering from IBS. They should also learn to avoid the foods and habits that trigger their symptoms. High-fat foods, caffeine, and alcohol often are culprits. At the same time, upping their intake of high-fiber foods may help these and other fibro symptoms.
Irritable bowel syndrome (IBS) is consistently associated with increased pain hypersensitivity and fibromyalgia. Approximately two in five people with fibromyalgia have IBS. In addition, approximately one in three people with IBS will also be diagnosed with fibromyalgia.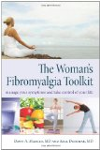 Many people with irritable bowel syndrome (IBS) are diagnosed with fibromyalgia. IBS is a condition that causes gastrointestinal pain, diarrhea, and occasional constipation. Some experts consider IBS to be part of fibromyalgia's spectrum of symptoms. Other symptoms of fibromyalgia can include deep muscle pain and tenderness, fatigue, sleep problems, depression and other persistent problems.
Continue Learning about Fibromyalgia Causes