Some scientists suspect that fibromyalgia may be related to aberrant, or abnormal, behavior in the body's immune system. Normally, a healthy immune system protects the body against germs and other invaders that can cause illness and disease. But some scientists are studying the possibility that certain changes in the immune system could activate nerve cells, resulting in pain and other symptoms of fibromyalgia. Much more remains to be learned about the relationship between fibromyalgia and the immune system.
Continue Learning about Fibromyalgia Causes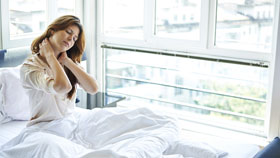 One of the most common risk factors for fibromyalgia is experiencing some type of physical or emotional trauma, and there is some indication that genetic factors also may play a role. Patients with sleep disorders have increased r...
isk, and poor sleep habits are related to fibromyalgia flares.
More