Fibromyalgia profoundly affects relationships, marriages, and long-term partnerships. Being in constant pain and disabled can magnify a relationship's past imperfections or strengthen what was already strong between spouses and partners.
You and your spouse or partner can ask each other the following questions to understand your evolving needs or how your relationship is changing.
When were we most successful in communicating with each other in the past? How can we use the same methods now to deal with this illness together?
What areas of our lives must we maintain to ensure as much normalcy as possible?
What role changes in our marriage or partnership do we need to make to get through this thing together?
What has this been like for you?
How can we help each other deal with the stress in our lives?
How can I show you that I love you?
How can we still enjoy being together and have fun?
What can I do to help you now and later?
Do we need professional counseling or other help for our marriage?
What old rules do we need to break? What new rules do we need to establish?
What are you afraid to ask me? What are we not talking about that needs to be addressed?
How you ask your questions is just as important in a close relationship as what you ask each other. Give yourselves permission to ask each other the tough questions that you might have avoided or may not have known to ask otherwise.
Your attitude and timing are critical to a successful conversation. Plan a time to talk when you are both relaxed. Use the questions in whatever order works best for you or add your own. Take a time-out when needed or if you become upset while talking.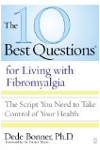 Continue Learning about Caring for a Loved One with Fibromyalgia