Continuous electronic fetal monitoring (EFM) increases the likelihood of both cesarean sections and operative vaginal births (births in which forceps or a device known as a vacuum extractor are used to help pull the baby out of the birth canal). Continuous EFM does not offer clear benefit for babies when compared to monitoring the fetal heart rate intermittently during labor. Talk with your caregiver and check hospital policies to find out whether they are willing to check your baby's heart rhythm with a handheld device or occasional use of EFM instead of continuous EFM. With some types of intervention that involve increased risk (for example, epidurals for pain control), you will be required to use continuous EFM.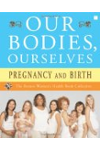 More About this Book
Our Bodies, Ourselves: Pregnancy and Birth
ALL THE INFORMATION YOU NEED TO MAKE WISE DECISIONS ABOUT YOUR PREGNANCY AND THE BIRTH OF YOUR CHILD -- FROM THE EDITORS OF THE CLASSIC "BIBLE OF WOMEN'S HEALTH" Pregnancy and birth are as ordinary...
Continue Learning about Fetal Development Basics & Pregnancy