The first sense to emerge, touch happens as early as 7 ½ weeks, when your baby can first sense touch on the lips and nose, and quickly extends to the rest of body, as he goes from touching his lips or nose to touching the uterine wall, his face, and the rest of his body. Touch is a critical survival sense, as it not only enables a baby to suck, swallow, and cough at birth, but also to take in amniotic fluid while in the womb.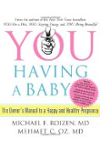 Continue Learning about Fetal Development Basics & Pregnancy
At 4 weeks, the cells of the fetus are specializing into a nervous system, hair, organs, and skin. At 12 weeks, the fetus is around 2 _ inches in size and makes movement on its own. At 20 weeks, the nervous systems functions, sex ...
can be determined, and you will feel your baby move. At 28 weeks, the fetus weighs over 2 pounds and if born prematurely, would most likely be able to survive. At 32 weeks, the baby weighs 4 pounds and fat layers begin to develop under its skin. At 36 weeks, the lungs are almost fully developed and brain function is developing rapidly. At 37 weeks, a term pregnancy can be made.
More