Intrauterine growth restriction (IUGR) means the baby is growing more slowly than is normal. The most common cause is a problem with the placenta -- the tissue that carries food and blood to the baby. It can also be caused by:
Birth defects
Genetic disorders
Infection in the mother
High blood pressure
Smoking
Alcohol or drug abuse
Use of certain prescription medicines
Intrauterine growth restriction (IUGR) doesn't just mean a small baby. If your family has a history of small babies, it might be perfectly normal for your baby to be small. IUGR is slower-than-normal growth in a baby that should be larger, and it is diagnosed by careful measurements of the baby and the amniotic sac using ultrasound. Often the doctor will order fetal monitoring or amniocentesis to evaluate the cause of IUGR.
There can be many causes of intrauterine growth restriction (IUGR), which is just a fancy name for saying that baby isn't gaining enough weight. It affects the smallest 5 percent of babies. On the one hand, IUGR can occur when there are maternal nutritional concerns. Perhaps you're not eating enough or perhaps you're suffering from so much nausea that you are losing weight and can't keep nutrients down. Another reason could be that you had babies too close to one another, so your body may still be recovering and repairing itself after baby #1, making fewer resources available for baby #2.

You may eat a perfectly balanced and nutrient-rich diet, have no nausea problems whatsoever, and still have a growth-restricted baby. In this case, something else might be causing there to be a kink in the link between your nutrition and your baby's. Infections, exposure to toxins, and genetic conditions all increase your baby's risk of IUGR.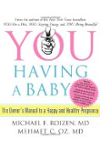 Continue Learning about Fetal Development Basics & Pregnancy