Three types of tests screen for or diagnose potential impairments in the fetus are:-
The first type is genetic-carrier screening. It consists of blood tests that can be performed before you get pregnant or in early pregnancy. The tests determine if you or your partner is a carrier of diseases such as cystic fibrosis that can be inherited by your children.
The second type of prenatal test is a screening test. Such tests measure the likelihood that your fetus has a particular condition, but cannottell you for certain whether the fetus has the condition.
Finally there is the diagnostic test, which gives a yes-or-no answer and tells you that the fetus does or does not have a particular condition.The availability of such tests raises many complicated questions for prospective parents, because treatments for the conditions they diagnose are limited. Treatment can essentially "cure" only a few conditions, such as clubfoot or cleft palate. For other conditions, such ascystic fibrosis, sickle-cell disease, or spina bifida, a range of medications and therapies can improve the child's health and functioning, but cannot end the disability. And for some conditions, no treatment currently exists.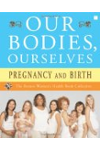 More About this Book
Our Bodies, Ourselves: Pregnancy and Birth
ALL THE INFORMATION YOU NEED TO MAKE WISE DECISIONS ABOUT YOUR PREGNANCY AND THE BIRTH OF YOUR CHILD -- FROM THE EDITORS OF THE CLASSIC "BIBLE OF WOMEN'S HEALTH" Pregnancy and birth are as ordinary...
Continue Learning about Fetal Development Basics & Pregnancy