There is good evidence that continuous fetal monitoring in uncomplicated pregnancies has done nothing to improve outcomes for babies and mothers but has dramatically increased the cesarean section rate. Unfortunately, for a variety of reasons, continuous fetal monitoring has become the norm in many hospitals.
Continuous fetal heart rate monitoring should be reserved for situations in which epidurals or Pitocin are being used and for women who have certain complications. If you are having a hospital birth and there is no clear-cut medical reason for you to have continuous monitoring, ask your provider to consider intermittent monitoring.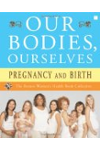 More About this Book
Our Bodies, Ourselves: Pregnancy and Birth
ALL THE INFORMATION YOU NEED TO MAKE WISE DECISIONS ABOUT YOUR PREGNANCY AND THE BIRTH OF YOUR CHILD -- FROM THE EDITORS OF THE CLASSIC "BIBLE OF WOMEN'S HEALTH" Pregnancy and birth are as ordinary...
Continue Learning about Fetal Development Basics & Pregnancy