Doctors can't exactly get a scale inside the womb, so we doctors need to rely on a number of other methods to determine whether your baby is sliding down from the middle of the bell curve.

Midway through your pregnancy, your provider will start measuring the size of your baby. By 20 weeks, the uterus as measured form the pubic bone to the top of your belly, should be about 20 centimeters in length and grow a centimeter every week for the next 14 to 16 weeks after that (the 1 cm a week doesn't hold up late in your third trimester).

Your doctor can estimate the size of the baby by measuring from the top of the pubic bone to the top of the uterus (you can also do this yourself; just ask your doctor or midwife to help you locate the top of your uterus so you know what to feel for).

Keep in mind that a full bladder and belly fat can change this measurement, so it's not a perfect determinant, but it certainly can offer a clue as to whether you're on the right track.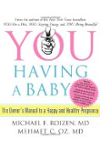 Continue Learning about Fetal Development Basics & Pregnancy