During pregnancy, the pressure of the growing uterus can slow down the return of blood from the legs. This may cause fluid to shift into the skin and muscles, producing swelling. It may also cause the blood to back up in the veins, producing varicose veins or making varicose veins you already have worse. In addition, the growing baby's need for fluid, vitamins, and minerals may cause the level of certain nutrients in the bloodstream to become too low, which leads to cramps. These changes can make for very uncomfortable legs, ankles, and feet.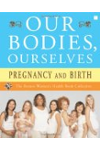 More About this Book
Our Bodies, Ourselves: Pregnancy and Birth
ALL THE INFORMATION YOU NEED TO MAKE WISE DECISIONS ABOUT YOUR PREGNANCY AND THE BIRTH OF YOUR CHILD -- FROM THE EDITORS OF THE CLASSIC "BIBLE OF WOMEN'S HEALTH" Pregnancy and birth are as ordinary...
Continue Learning about Pregnancy, Fertility and Childbirth