When you are pregnant your veins dilate up to 60 percent more than normal. You probably first noticed the large blue veins standing out more noticeable in your breasts. During pregnancy you secrete hormones called relaxin and estrogen. The relaxin relaxes your blood vessels and the estrogen causes your arteries to secrete nitrous oxide which opens the blood vessels up. Mother Nature does this so that the blood can flow freely to the uterus to help supply your baby with nutrients. There are many circulatory changes that happen during the pregnancy and they all have a reason. But during this process because the blood pressure is lower in the veins than the arteries, the blood and fluids can stagnate or pool. The additional weight you are carrying can change the way the fluid moves throughout your body. This can cause you to retain fluid in your legs, hands and face. Elevating your legs can help. Watching your sodium intake can also help. And the easiest fix, make sure to drink more water. It takes more water to help the fluid shift to your kidneys so your body can work on getting it out. Another way to make you feel better and help you deflate is soaking in a tub or swimming. This takes all the weight off and gives you a much needed rest and break.
During pregnancy, the pressure of the growing uterus can slow down the return of blood from the legs. This may cause fluid to shift into the skin and muscles, producing swelling. It may also cause the blood to back up in the veins, producing varicose veins or making varicose veins you already have worse. In addition, the growing baby's need for fluid, vitamins, and minerals may cause the level of certain nutrients in the bloodstream to become too low, which leads to cramps. These changes can make for very uncomfortable legs, ankles, and feet.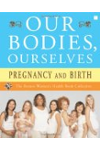 More About this Book
Our Bodies, Ourselves: Pregnancy and Birth
ALL THE INFORMATION YOU NEED TO MAKE WISE DECISIONS ABOUT YOUR PREGNANCY AND THE BIRTH OF YOUR CHILD -- FROM THE EDITORS OF THE CLASSIC "BIBLE OF WOMEN'S HEALTH" Pregnancy and birth are as ordinary...
Continue Learning about Pregnancy, Fertility and Childbirth