A molar pregnancy or a hydatiform mole is a rare mass or the growth of tissue inside the uterus that mimics early pregnancy, but there is no embryo present. It is a form of gestational trophoblastic disease (GTD). A hydatiform mole, or molar pregnancy, results from over-production of the tissue that is supposed to develop into the placenta, that is the trophoblasts. Molar pregnancies are thought to be due to a problem during fertilization. While the exact cause of fertilization problems are unknown, a diet low in protein, animal fat, and vitamin A may play a role.
A molar pregnancy, also called gestational trophoblastic disease, is not always a true pregnancy. If there is a fetus, there are usually abnormalities not compatible with life outside the uterus. It involves excess growth of tissues related to pregnancy. It is frequently suspected by the provider when the size of the uterus is larger than expected based on the expected due date, there is dark brown bleeding, and the level of the hormone HCG is elevated. An ultrasound will diagnose the problem with a "snowstorm" pattern seen rather than a normally developing fetus. Surgery is needed to remove the tissue growths. Following surgery, lab work will be needed weekly until the HCG levels drop to normal and then every two weeks for three months, then monthly for 6 - 12 months. Additional tests might be ordered by the provider as well. It is recommended that a woman avoid pregnancy for one year in order to allow accurate follow-up of the HCG hormone.
Severe nausea during pregnancy isn't just associated with morning sickness. Severe nausea can also be a sign of something called a molar pregnancy. This occurs when the chorionic villi swell and keep functioning as if there were a fetus—even when there is no viable fetus. A molar pregnancy (which can spread beyond the uterus like a cancer and also cause heavy bleeding) can be detected by an ultrasound and treated with a small surgical procedure called a D&C (dilation and curettage) to remove the excess tissue from the uterus.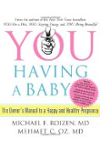 Continue Learning about Pregnancy, Fertility and Childbirth