Ultrasound tests are routinely performed throughout pregnancy. For high-risk patients, ultrasound tests can be targeted to look at specific aspects of the fetus based on results of prenatal screening or previous ultrasounds.
Nuchal translucency ultrasound -- A nuchal translucency ultrasound helps assess your baby's risk of having Down syndrome or other chromosomal abnormalities as well as major heart problems. A nuchal translucency ultrasound measures the clear space in the tissue at the back of your baby's neck. Babies with abnormalities tend to accumulate more fluid at the back of their neck during the first trimester, causing this clear space to be larger than average.
Marker and detail ultrasound -- A marker and detail ultrasound is performed to look for specific conditions in the fetus that are known to be related to chromosomal abnormalities. A marker is a slight deviation from the normal anatomy. Markers may or may not indicate a problem. An amniocentesis or CVS would be used for further diagnosis and to confirm chromosomal abnormalities.
Growth ultrasound -- Growth ultrasounds are used to make sure your baby is growing on target.
Amniotic fluid index (AFI) ultrasound -- An AFI ultrasound is used to measure the amount of fluid surrounding your baby. Amniotic fluid protects your baby and aids in development. An AFI ultrasound is used to identify abnormal amniotic fluid levels that could lead to birth defects or pregnancy complications.
Continue Learning about Pregnancy, Fertility and Childbirth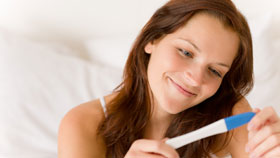 Once you become pregnant, it is important to follow your doctors recommendations for prenatal care, which can help to make sure that you and your baby stay in the best health possible. In your last trimester, it will be important ...
to understand what happens during labor and delivery, and to know your pain control options. Learn more about pregnancy and childbirth from our experts.
More