During pregnancy, you will probably feel some discomfort in your back, arms, legs, or joints. Several factors may lead to this discomfort:
Progesterone - one of the primary hormones of pregnancy - causes your joints and ligaments to loosen. This may cause aching in your hips and knees and even in your pubic bone.
Your growing belly changes your center of gravity and may pull your neck, shoulders, and back out of alignment.
The pressure of the growing uterus can constrict the veins and the nerves that go through the pelvis. This can lead to blood pooling in your legs, and to swelling, numbness, tingling, or cramping in your legs and feet.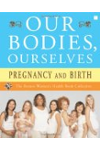 More About this Book
Our Bodies, Ourselves: Pregnancy and Birth
ALL THE INFORMATION YOU NEED TO MAKE WISE DECISIONS ABOUT YOUR PREGNANCY AND THE BIRTH OF YOUR CHILD -- FROM THE EDITORS OF THE CLASSIC "BIBLE OF WOMEN'S HEALTH" Pregnancy and birth are as ordinary...
Continue Learning about Pregnancy, Fertility and Childbirth