Once barred from the delivery room, men are now invited -- and expected -- to be present at their child's birth. For many guys, it's an exciting, if nerve-wrack­ing, experience. Yet for every new dad armed with a video camera and words of encouragement, there's a man who rues ever witnessing the whole messy affair.
Sure, he'll describe the event as "incredible" -- but secretly he regrets not just staying at the head of the bed holding your hand. Instead, he saw things he wishes he'd never seen, whether that means watch­ing a vaginal delivery or a C-section. A body part he previously associated with pleasure may now be to­tally desexualized, and he can't go near it without flashing back to the delivery process. If you had a C-section, the scar may remind him of watching doc­tors slice open your abdomen. In either case, it's clear that, for some men, childbirth is a libido killer.
Fortunately, this is one trauma that can be overcome quickly. Guys: Get back in the saddle and just do it! Even if you have to push yourself through the mo­tions of intimacy those first few times, eventually the heady neurochemical cocktail of arousal will do its job, and you'll want to keep riding.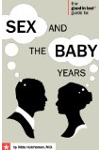 More About this Book
The Good in Bed Guide to Sex and the Baby Years
Available at a substantial discount for a limited time only, thanks to support from K-Y(R) Brand!Once you get down to the business of baby-making, the advice will pour in: books, magazines, in-laws,...
Continue Learning about Pregnancy, Fertility and Childbirth