Although we often can't control how we give birth, the way you deliver your baby can affect your sex life. According to recent research, women who deliver via vaginal birth appear to have greater sexual dissatisfac­tion than those who deliver through C-section. One study published in the June 2009 issue of the Journal of Sexual Medicine, for example, found that women who had planned C-sections had less pain and better sexual satisfaction and were more likely to resume hav­ing intercourse within 8 weeks of delivery than those who had vaginal births. Other studies have found that episiotomy (a surgical incision of the skin between the vagina and anus, or perineum, to enlarge the vaginal opening for childbirth) may delay the time it takes to resume intercourse. A 2008 report in the journal Gynecologic and Obstetric Investigation also found that women who underwent episiotomy had more pain and vaginal dryness with intercourse.
The type of delivery you choose should be based on the health of you and your baby, not your sex life. Still, it's good to know what you might expect with both modes of childbirth so you can take measures to pre­vent pain during intercourse and other side effects.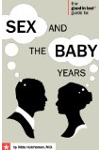 More About this Book
The Good in Bed Guide to Sex and the Baby Years
Available at a substantial discount for a limited time only, thanks to support from K-Y(R) Brand!Once you get down to the business of baby-making, the advice will pour in: books, magazines, in-laws,...
Continue Learning about Pregnancy, Fertility and Childbirth