One particular exercise that is helpful to pregnant women is squatting. Squatting is the natural position for giving birth. The pelvis is more open and gravity is on our side. But we don't do a lot of squatting in daily life in the United States or Canada (unlike people in some other parts of the world). As a consequence, we have a hard time squatting for labor even when we want to do so. Squatting during pregnancy helps open the pelvis and strengthens the muscles needed for labor and delivery. If you are hoping to birth in the squatting position, discuss this with your health care provider and make sure the birth place you have chosen will allow it. Whether you plan to birth squatting or not, practicing squatting will help you during your labor and birth. A couple of tips to make squatting easier:
When you first start practicing squatting, keep your feet wide apart and your toes wider apart than your heels. It will be easier to balance. As your balance gets better, you can move your feet in and straighten them.
Squat while leaning against the wall when beginning this exercise. It is easier and safer.
You may also find that squatting is easier if you put a support under your heels instead of trying to keep your feet fl at on the floor. As you become more comfortable in the squat, you can lower the heel support gradually.
If squatting is just too much, you can get many of the same benefits from sitting cross-legged on the floor. If it just doesn't work, don't worry about it.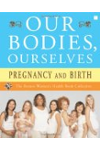 More About this Book
Our Bodies, Ourselves: Pregnancy and Birth
ALL THE INFORMATION YOU NEED TO MAKE WISE DECISIONS ABOUT YOUR PREGNANCY AND THE BIRTH OF YOUR CHILD -- FROM THE EDITORS OF THE CLASSIC "BIBLE OF WOMEN'S HEALTH" Pregnancy and birth are as ordinary...
With feet shoulder width apart and toes pointed forward or slightly out, clasp a very sturdy banister or rail at about chest height. Using your arms to support some of your weight, squat down as low as feels comfortable to your lower back and knees. Hold your lowest comfortable position for up to 5 seconds and come back up. Keep your focus forward. Try to work toward 20 repetitions.

This exercise is particularly useful if you plan on using the hanging rope or squatting positions for delivery or the end stage of labor. You will gain the flexibility necessary to reach this position and the strength and muscular endurance needed to maintain it.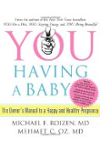 Continue Learning about Pregnancy, Fertility and Childbirth