Your sleep position can be surprisingly important when you're pregnant. In this video, internist and sleep medicine expert Carol Ash, DO, discusses the best sleep position for pregnant women.
I know you're not going to lie on your stomach as your belly grows and you enter the second trimester, but I do want you to avoid lying flat on your back. That's because when you do so, the weight of your uterus compresses the blood vessels that are feeding the placenta, creating a drought in the blood lake.

Lying on your left side is better than lying on your right side because it allows more blood to flow to the uterus. Either side is better than lying on your back, because when you do, you compress a large vein called the vena cava. The pressure from that compression reduces the flow of blood back to your heart as if you were bending a water hose, and that decreases the blood flow to your uterus and to your baby.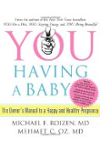 Continue Learning about Pregnancy, Fertility and Childbirth