Most women have some swelling in the feet and ankles during pregnancy. You can help minimize swelling, cramping, and the discomfort of varicose veins with some self-care measures:
Drink lots of water. While it does not seem to make sense, getting enough water actually helps you avoid swelling. The water helps your kidneys flush waste products from your body and pulls water from your tissues that may be "hiding" there.
Take time every few hours throughout the day to get off your feet. This is especially important if your work requires you to be on your feet for long periods. If possible, lie down. If you can not, lean to the side while sitting.
Wear low-heeled, supportive shoes and avoid knee-high stockings that cut into your legs.
A moderate-speed walk for 30 minutes each day will massage the muscles that support your veins and help prevent or ease varicose veins.
Make sure you get at least 1,000 milligrams of calcium in your diet each day. There is some evidence that getting enough calcium helps prevent leg cramps.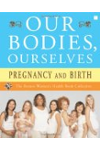 More About this Book
Our Bodies, Ourselves: Pregnancy and Birth
ALL THE INFORMATION YOU NEED TO MAKE WISE DECISIONS ABOUT YOUR PREGNANCY AND THE BIRTH OF YOUR CHILD -- FROM THE EDITORS OF THE CLASSIC "BIBLE OF WOMEN'S HEALTH" Pregnancy and birth are as ordinary...
Continue Learning about Pregnancy, Fertility and Childbirth