Whether you are single or in a committed partnership, over forty or in your teens, rich or poor or middle class, being pregnant will transform your identity and call on your emotional strengths and resources. You may gain confidence in your own abilities as your body accommodates to the new life growing within you. Learning to trust ourselves and our bodies during the changes of pregnancy, birth, and parenthood can help us as we face other challenges throughout life.
Yet if you have seen yourself as committed to your career, or as someone who does what she wants when she wants to, motherhood may not seem like a good fit. You may fear it will stifle your spontaneity, end your travel and hobbies, or curtail your career advancement. You may worry that others will see you as less strong and capable once you become a mother, or that you will lose your individuality, fall into economic dependence on a partner, or slip into your mother's identity. Thinking about ways in which you can maintain some continuity with your previous sense of self while celebrating and embracing the positive changes that will come with motherhood can help you navigate this transition.
Depending on your relationship to your own mother and your experience of childhood, you may be fearful of being like your mother or fearful of not being as good a mother as she was. You may fear that you will not have time to spend with your friends, or that your friendships will be strained if your friends do not have children. Whatever concerns come up for you, it will take some time to resolve them as you get used to your new role.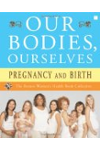 More About this Book
Our Bodies, Ourselves: Pregnancy and Birth
ALL THE INFORMATION YOU NEED TO MAKE WISE DECISIONS ABOUT YOUR PREGNANCY AND THE BIRTH OF YOUR CHILD -- FROM THE EDITORS OF THE CLASSIC "BIBLE OF WOMEN'S HEALTH" Pregnancy and birth are as ordinary...
Continue Learning about Pregnancy, Fertility and Childbirth