The language used to describe pregnancy and childbirth reflects assumptions about women that set the stage for different styles of maternity care. Woman-centered terminology portrays women as active, healthy, and powerful, and labor as "natural" and "normal". In this view, associated traditionally with the midwifery model, providers "attend"women, "assist" at births, and "catch"babies.
In contrast, some medical language depicts women as passive subjects, putting doctors in the role of "managing labor" and "delivering babies". Medical terms such as "failure to progress","inadequate pelvis",and "incompetent cervix" imply that something is wrong with a woman's body. This influences how we see ourselves, how providers see us, and how the media portray birth.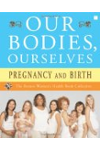 More About this Book
Our Bodies, Ourselves: Pregnancy and Birth
ALL THE INFORMATION YOU NEED TO MAKE WISE DECISIONS ABOUT YOUR PREGNANCY AND THE BIRTH OF YOUR CHILD -- FROM THE EDITORS OF THE CLASSIC "BIBLE OF WOMEN'S HEALTH" Pregnancy and birth are as ordinary...
Continue Learning about Pregnancy, Fertility and Childbirth