Weakened pelvic muscles are the result of the added weight of the growing uterus, fetus, placenta and amniotic fluid during pregnancy as well as the pushing and stretching of the reproductive tract as the fetus descends during the birth process.
Kegel exercises are recommended to improve muscle tome by strengthening the pubococcygeus muscles of the pelvic floor. Kegel exercises are discreet and can be performed just about any place: at work, driving the care or sitting at the movies. Kegel exercises need to be done regularly and need to become a habit to produce the best results. Basically Kegel exercises involve tightening the muscles surrounding the urethra. To learn how to localize the correct muscle, start doing Kegels while urinating. Once the flow of urine begins, tighten the muscle surrounding the urethra to stop the flow and urine. Hold for 3 seconds and release for3 seconds. Repeat for a total of 10-15 repetitions three times a day. It is important to keep the abdominal and buttock muscles relaxed, all the muscular contraction is around the urethra and anus. Once you are familiar with which muscle is being contracted and released, Kegels and be performed without passing urine simultaneously. In other words you can Kegel at work, at social event and at whatever other events fill your days.
The muscles that surround and sup­port your vagina may be weakened by pregnancy and childbirth. Strong pelvic floor muscles make it easier to experience orgasm and increase pleasure for you and your partner. You can tone and strengthen the muscles in your pelvic floor by practicing Kegel exercises. Squeeze your pelvic muscles as if you're stopping your stream of urine, hold for 5 seconds, and release, repeating the cycle 5 times in a row (don't do so while actually urinating). Eventually, work your way up to 10-second intervals.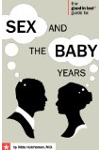 More About this Book
The Good in Bed Guide to Sex and the Baby Years
Available at a substantial discount for a limited time only, thanks to support from K-Y(R) Brand!Once you get down to the business of baby-making, the advice will pour in: books, magazines, in-laws,...
The best way to strengthen your pelvic floor muscles after you have delivered a baby vaginally is to do kegel exercises. Kegel exercises will aid healing of the pelvic floor after delivery, and will help strengthen those muscles.
Continue Learning about Pregnancy, Fertility and Childbirth