What medications should I avoid if I'm pregnant or trying to get pregnant?
Not all medications are safe for women to take during pregnancy. In this video, Siri Kjos, MD, an OB/GYN with MountainView Hospital, explains why some medications are riskier than others and she offers alternative treatments to these drugs.
What Medications Should I Avoid If I'm Pregnant or Trying to Get Pregnant?
Pregnant women shold be careful of all medication they are taking. Watch this video to learn what meds you can and can't take during pregnancy.
dr_oz_webcast_widescreen_H.297_medications_during_pregnancy
We know that taking certain medications during pregnancy can cause serious birth defects. Examples are thalidomide (also known as Thalamid) and isotretinoin (also known as Accutane). Such medications should be avoided by all women who are or might become pregnant. While some medications are known to be harmful when taken during pregnancy, the safety of most medications taken by pregnant women has been difficult to determine.

The presence of the CDC logo and CDC content on this page should not be construed to imply endorsement by the US Government of any commercial products or services, or to replace the advice of a medical professional. The mark "CDC" is licensed under authority of the PHS.
Here's a list of medications you should avoid while pregnant:
Accutane for acne.
Aspirin - In rare cases, baby aspirin may be recommended in the first trimester to moms who have repeated miscarriages. Once outside of the first trimester, aspirin and drugs with similar action like ibuprofen and naproxen are not recommended as pain relievers during pregnancy as they may cause a drop in prostaglandin levels, which causes a tube from the baby's heart to close off too early (a process that naturally happens after birth).
These medications might have some risks for pregnant women:
Nasal decongestants: Pseudophedrine (Sudafed), Tripolidine (Actifed) - avoid in first trimester.
Pain medications with narcotics - not recommended for repetitive dosing.
Diuretics/water pills.
Some anti-depressants have FDA warnings, but the risks appear to be mild. There are rare complications for newborns with general classes of SSRI, and the Paxil category of anti-depressants have been thought to cause birth defects, but it doesn't.
Continue Learning about Pregnancy, Fertility and Childbirth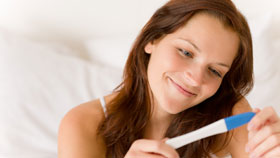 Once you become pregnant, it is important to follow your doctors recommendations for prenatal care, which can help to make sure that you and your baby stay in the best health possible. In your last trimester, it will be important ...
to understand what happens during labor and delivery, and to know your pain control options. Learn more about pregnancy and childbirth from our experts.
More