If you are pregnant, sleeping habits are major contributors to back pain. Often, the tensor fascia lata (TFL) and quadriceps muscles pull the pelvis into an anterior pelvic tilt (top of the pelvis tilts forward), which creates excessive lumbar lordosis (natural inward curve of the lumbar and cervical spine).

Put pillows under your knees to help relieve the pelvic tilt that causes your spine to arch. When sleeping on your side, pull your knees up to your chest to help reduce the excessive spinal extension and relieve pain. Putting pillows between your knees will help alleviate stress to hip muscles that can become irritated later. This also helps eliminate sciatic pain.

As your pregnancy progresses, your pelvis becomes wider in anticipation of the baby's birth. Sleeping on your side with wider hips subjects your spine to more side-bending and, therefore, rotation (a spinal movement whereby one vertebra rotates left or right in relation to another vertebra). This side-bending coupled with rotation can often impinge nerve roots that exit the spine, which compose the sciatic nerve (major nerve feeding the leg from the lumbar vertebrae to the back of the leg).

Typically, the spine will resist rotation at the least mobile vertebrae and instead side-bend and rotate at the most mobile segment(s). Lying on the other side doesn't cause pain because the spine's rotation favors that direction. A towel placed under your waist will diminish side-bending of the spine and therefore rotation and impingement of the nerve roots. When rolling over to the other side, the towel will again serve to neutralize the spine's side-bending and rotation. This can also reduce irritation of the sciatic nerve.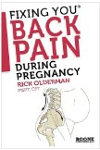 Continue Learning about Pregnancy, Fertility and Childbirth