Brian Josephs, MD, FACOG from Spotsylvania Regional Medical Center discusses how soon after giving birth a woman can exercise in this video.
Although you may be eager to shed any weight gained during pregnancy, be prepared to allow your body time to recover from giving birth. Check first with your medical provider about beginning exercise. In general, if you had a vaginal delivery, you may begin mild exercise right away. If you had a cesarean, wait until after your six-week postpartum exam or until all abdominal tenderness has vanished; although you may climb stairs, avoid lifting anything heavier than your baby. Until your exam, exercise by standing up straight wearing sensible shoes, walking and holding in your abdominal muscles.
Continue Learning about Pregnancy, Fertility and Childbirth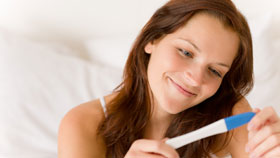 Once you become pregnant, it is important to follow your doctors recommendations for prenatal care, which can help to make sure that you and your baby stay in the best health possible. In your last trimester, it will be important ...
to understand what happens during labor and delivery, and to know your pain control options. Learn more about pregnancy and childbirth from our experts.
More