The pelvis is one of the key players in fixing back pain or sciatica during pregnancy. The pelvis is the keystone to a healthy spine. If it's sitting pretty, then our spine usually is too. That is because the spine is stacked right on top of the pelvis.

The pelvis is made up of three bones (okay, technically there are more than three, but we'll keep it simple for our purposes): the sacrum and two ilia. The sacrum is the part of the pelvis that forms a joint with the lowest lumbar vertebra. This joint is called the lumbosacral junction. It's here that most spinal movement happens when we bend forward and straighten back up. This is important to keep in mind because pain in the body typically happens at joints that move too much rather than those that move too little. Therefore where the spine meets the pelvis, the lumbosacral junction, is more susceptible to injury than other areas of the spine. The way the pelvis rests and moves guides how well the spine works because the two are literally linked together.

Changes in the way the pelvis rests or moves affect the lordotic curve (inward curve of the spine) and can strain the lumbosacral junction. For instance, if the pelvis is slightly tilted back, as in a posterior pelvic tilt, it tends to reduce or flatten the lordotic curve. This means the spine is in a permanent state of slight flexion, although it should ideally be in a little extension. A flattened spine at rest is more likely to flex too much, too soon, or too easily when bending over.

As you move into the later months of pregnancy, the weight of the fetus gradually causes your pelvis to tilt forward into a position called anterior pelvic tilt.

Over time, an anterior pelvic tilt will cause the muscles in the front of the pelvis (the tensor fascia lata [TFL], rectus femoris, and sartorius) to shorten; the shortened muscles then reinforce the anterior pelvic tilt. This pelvic tilt also causes the spine's lordotic curve to increase.

Remember, a lordotic curve means the lumbar vertebrae must be slightly extended, so a bigger lordotic curve means even more spinal extension. When you think about it, your spine really is bending backwards to offset the growing fetus's weight that's pulling you forward.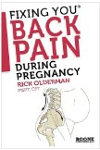 Continue Learning about Pregnancy, Fertility and Childbirth