It's easy to get down on yourself for not being in the shape you want to be in; that's why short- and long-term goals are helpful when treating back pain. They keep you on track, and they prevent you from berating yourself for not being further along.

Goals should be realistic and as specific as possible to be helpful. For instance, a short-term goal while pregnant could be to perform four, five-minute sessions each day during the next four weeks to eliminate your pain. A short-term goal postpartum could be to set aside five, two-minute sessions each day for three weeks to practice activating your abdominal muscles.

Long-term goals should also be specific; for instance, set a goal that in five weeks you'll maintain two, three-minute corrective exercise sessions each day to keep your pain at bay.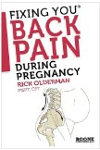 Continue Learning about Pregnancy, Fertility and Childbirth