While partners can't erase the pain of labor and delivery, they can do a whole lot of good in other ways while their child is being born. Some options to turn a helpless feeling into a helpful one:
Massage your partner.
Communicate with loved ones (those in the waiting room and those in other parts of the world); have the laptop and camera charged and ready to go.
Be in charge of the suitcase to bring to the hospital, making sure everything's in there.
Promise to do whatever she you wants you to do - whether it's being silent, singing and dancing, or offering up your jaw for her to punch straight-on.
Take great pictures in the delivery room. Some good shots: the big clock in the delivery room at the time of birth, the scale when the baby is being weighed, the room number where the baby was born, the doctor/nurses/midwife, and even the placenta (some will say it's gross, but it was your baby's lifeline). And oh yeah, maybe one or two of the baby.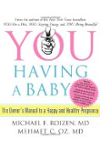 Continue Learning about Pregnancy, Fertility and Childbirth