You need energy to enjoy sex. But when you're existing on minimal sleep and taking care of your baby's every need, that can seem about as likely as winning the lottery. Also, for some women, the tenderness and incisions that result from vaginal childbirth, episiotomy (the surgical incision to enlarge the vaginal opening for childbirth) and C-section may result in increased discomfort.
Here are some tips to follow when looking for after-birth intimacy:
Wait for the go-ahead from your health practitioner before having sex again. You don't have to dive right into intercourse.
Talk with your partner about your limits, so you can enjoy each act of inti­macy for what it is without worrying that it will turn into a demand for sex.
Kiss, cuddle, spoon, give each other massages, touch each other, share a fantasy or enjoy oral stimulation to feel intimate without intercourse.
Lots of couples feel weird having sex when their baby is in the same room, so put your baby monitor to use—set to a low volume—to help you relax.
Try to nap when your baby naps. Eventually he or she will develop a regular sleep schedule and you'll get a break.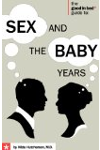 More About this Book
The Good in Bed Guide to Sex and the Baby Years
Available at a substantial discount for a limited time only, thanks to support from K-Y(R) Brand!Once you get down to the business of baby-making, the advice will pour in: books, magazines, in-laws, you name it - everyone will have something to say! But there's one thing that nobody will be talking about: your sex life--how it will change, and why you should cling to it, as passionately as you'll cling to that new bundle of life with the big eyes and winning smile.That's where this book comes in. Dr. Hilda Hutcherson, MD is a distinguished OB/GYN, an author of numerous best-selling books on the subject of sexual health, a candid advocate of healthy sex on shows such as Oprah, and, most importantly, a wife and mom of four - this lady knows what she's talking about!From the pressures of conceiving, to the fumblings of pregnancy sex, to the exhaustion of baby boot-camp and the ongoing trick of not letting your new identities as parents subsume your identity as a couple, having a baby isn't just an event, it's a milestone: a series of events that signifies a true transition into adulthood and marks a clear division between then and now. Available at a substantial discount for a limited time only, thanks to support from K-Y(R) Brand "Sex and the Baby Years" is about navigating that milestone - going in one way, and coming out changed on the other end. But also staying connected and loving throughout the process.About This Author:A graduate of Stanford University and Harvard medical School, Dr. Hutcherson is presently a Clinical Professor of Obstetrics and Gynecology and Associate Dean of Diversity at Columbia University College of Physicians and Surgeons. Hilda lives in Westchester New York, with her husband and four children.Dr. Hutcherson's commitment to women's health is evidenced by her monthly women's health column in Redbook Magazine where she is also a contributing editor. She is a frequent contributor to Essence Magazine, where she had a monthly column for eight years. She is a frequent invited speaker on Women's Health and Sexuality, and has appeared on many national television programs, including Oprah, the Racheal Ray Show, the TODAY Show, Good Morning America, the CBS Early Show, 20/20, Dr. Oz and others. Dr Hutcherson is the author of three books, including the best-seller: "What Your Mother Never told You About Sex."
A simple way to feel intimate and make an emotional connection after childbirth is to is to try hugging for 20 seconds. It sounds simple—and 20 seconds can be a long time to hug—but studies have shown that's about the amount of time it takes for women to produce significant levels of oxytocin, also known as the cuddle hormone. Oxytocin is stimulated via touch, and is directly correlated with a sense of connection and well-being. Women produce way more oxytocin than men, and while that's not to say that you won't enjoy the hug, too (as well as other forms of touch that stimulate oxytocin), it may not deliver the same sense of emotional connection. Many women need to experience an emotional connection in order to experience desire, and the oxytocin connection may well be the reason why. More About this Book
Overcoming Premature Ejaculation (A Good in Bed Guide)
From the New York Times best-selling author of She Comes First arrives the definitive guide to managing premature ejaculation – a book that could save your sex life!Do you suffer from PE? Are you unable to control when you ejaculate? Do you ejaculate within a minute or less of starting intercourse or even during foreplay? Have you tried various methods to deal with PE, only to have your hopes dashed?Do you avoid intimate situations because they could lead to premature ejaculation—so why even bother? Do the words "stop-start" and "squeeze" make you want to scream?If you answered "yes" to these questions, you could have chronic PE—and you're not alone. PE is the most common type of sexual dysfunction a man can have, with many experts estimating that up to 30 percent of all men suffer from it. But now, with new research and a new scientific understanding of PE, comes new techniques and new approaches. The program detailed in this book combines the best of behavioral, medical, and interpersonal modalities.Ian Kerner, Ph.D, is a sex and relationships counselor and New York Times best-selling author of numerous books for Harper Collins, including "She Comes First" and "Love in the Time of Colic." His journey to counseling grew out of his own personal battle with sexual dysfunction and his desire to help others. He often addresses issues that are common to the "American bedroom" but nonetheless lead to lives of quiet desperation. Ian is a contributor to NBC TODAY, amongst others, and lives his wife and two boys in New York City where he maintains a private practice.
Continue Learning about Pregnancy, Fertility and Childbirth