Generally, the exact opposite is true. Having a new baby in your life is exhausting to both partners. This is not conducive to sex. Because infants are totally dependent on their parents for quite a length of time, interference with the pre-baby sexual schedule persists.
However, your relationship (aside from sex), after being tested thoroughly by night feedings, fussy spells and messy diaper changes will be stronger as you both fall in love with this beautiful being you have created together. You will realize that you have shared the most exquisite intimacy. That will deepen your relationship.
Maintaining a healthy sex life as new parents is easier said than done! Remember, it took nine months to make a baby. It's going to take more than one night to re-make your sex life. Take things slowly -- baby steps, if you will -- to help ease anxiety and fear of pain with intercourse. And don't be afraid to think outside the box: You may need to be bolder sexually, to go where you haven't gone before. Reclaiming your sex life is a process, but it will happen naturally once you get things started.
You'll be able to recon­nect with each other and re-establish that intimate bond you share as a couple. As Louann Brizendine, MD, writes in The Female Brain, "Without frequent touch, the brain's dopamine and oxytocin circuits and receptors can feel starved. Couples may not real­ize how much they depend on each other's physical presence until they are separated for a while....In both males and females, oxytocin causes relaxation, fearless­ness, bonding, and contentment with each other. And to maintain its effect long-term, the brain's attach­ment system needs repeated, almost daily activation through oxytocin stimulated by closeness and touch.... Activities such as caressing, kissing, gazing, hugging, and orgasm can replenish the chemical bond of love and trust."
Perhaps you'll even feel more connected during sex. After all, you've shared an incredibly emotional experi­ence. Strengthen this bond now, so you've got a solid foundation for sex during parenthood.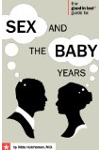 More About this Book
The Good in Bed Guide to Sex and the Baby Years
Available at a substantial discount for a limited time only, thanks to support from K-Y(R) Brand!Once you get down to the business of baby-making, the advice will pour in: books, magazines, in-laws,...
Continue Learning about Pregnancy, Fertility and Childbirth