Female condom use can be fun for both partners when it is made part of sex. Discuss condom use before you have sex. Use a female condom before you have any genital contact. Long before ejaculation, the male may discharge a few drops of fluid. This pre-ejaculatory fluid can contain sperm and may also expose you to HIV or other infectious organisms. You can insert the female condom up to eight hours before intercourse.
Carefully open the packet.Find the inner (smaller) ring, which is at the closed end of the condom.Squeeze the inner ring together.Put the inner ring in your vagina.Push the inner ring up into your vagina with your finger. The outer ring stays outside the vagina.When your partner's penis is hard, you will need to guide the penis through the outer ring, to make sure it is not pushed aside.After sex, remove the female condom (if you are lying down, do this before you stand up). Squeeze and twist the outer ring to keep the man's sperm inside the pouch. Pull and the condom should come out easily.Wrap the condom in tissue and dispose of it. Do not flush it down the toilet.
If you find that the ring is being pulled into your vagina during intercourse, you need to add extra lubrication inside the condom. You can use any kind of lubricant with the female condom. A lubricant containing a spermicide provides the most effective protection against pregnancy, but it may not be the best protection against STIs.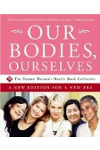 Continue Learning about Female Condoms