We should unconditionally love everyone because if God created everything, then everything must be part of God. Since God is incredibly loving, and everything is part of God, I presume that God loves us all. If God loves us all, then it must be okay for me to unconditionally love us all, as well.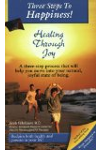 More About this Book
Three Steps to Happiness! Healing Through Joy
Happiness is our natural state of being. It is who we are. This happiness is obvious when you look at little children before they take on society's beliefs. Their natural state is to feel all of...
Continue Learning about Feelings & Emotions in Relationships