You can't be in a fearless, fulfilling relationship and be looking over your shoulder for approval at the same time. You've got to choose. If what's most important to you is being regularly patted on the back for good behavior or avoiding punishment for bad behavior, you'll never be able to reveal your true self in an intimate relationship Indeed, you won't even know what true self there is to reveal.
To truly love another, to truly overcome our fears, there is no alternative but learning to accept ourselves with all our shortcomings. As long as the expectation continues that relationships will fill our emptiness and insulate us from anxiety and loneliness, we will keep trying to find in them the feelings of safety and contentment we had or longed for in childhood, and we will keep finding disappointment instead. To be truly fearless in relationships, we have to turn off the voices of both our inner critics and society.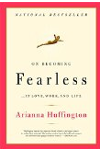 More About this Book
On Becoming Fearless...in Love, Work, and Life
Observing that her own teenage daughters were beginning to experience some of the same fears that had once burdened her--how attractive am I? do people like me? do I dare speak up?--Arianna...
Continue Learning about Feelings & Emotions in Relationships