Octacosanol is a waxy substance that is naturally present in wheat germ oil, rice bran, and the wax layer of many plants. Animal research indicates that it shares many common features with vitamin E and plays a role in enhancing energy production within cells. Early research suggested that octacosanol could help in improving amyotrophic lateral sclerosis (Lou Gehrig's disease), but this possible treatment was subsequently disproved. More recent research has focused on octacosanol as an ergogenic (exercise-promoting) agent. Preliminary studies have found that octacosanol has promising effects on endurance, reaction time, and other measures of exercise capacity. In one study, a dosage of only 1 milligram per day of octacosanol for eight weeks was found to improve grip strength and visual reaction time but had no effect on chest strength, auditory reaction time, and endurance.

Octacosanol is also one of the key components of policosanol, a mixture of fatty substances isolated and purified from the wax of sugarcane (Saccharum officinarum). Policosanol has exceptional clinical documentation, demonstrating its efficacy, safety, and tolerability in lowering cholesterol and triglyceride levels. The clinical studies have included comparative studies with conventional cholesterol-lowering drugs, such as lovastatin, pravastatin, simvastatin, gemfibrozil, and probucol. In these studies, policosanol in dosages ranging from 5 to 20 milligrams per day demonstrated significant improvement in lowering the cholesterol level on a par with these drugs, typically 20 to 30 percent.

In addition to its effects on the cholesterol level, policosanol has a positive effect in the battle against atherosclerosis. It prevents excessive aggregation of platelets without affecting coagulation and has a good antioxidant effect for preventing LDL oxidation. Better news still is that these benefits of policosanol may be present in other waxy substances that coat most fruits and vegetables.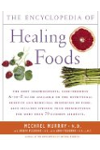 More About this Book
Encyclopedia of Healing Foods
From the bestselling authors of The Encyclopedia of Natural Medicine, the most comprehensive and practical guide available to the nutritional benefits and medicinal properties of virtually everything...
Continue Learning about Fats
At 9 calories per gram, fats can add up quickly in your diet, yet experts recommend that you get only 7% of your calorie intake from fat. Fats also affect your cholesterol, and there are both good and bad fats. The best kind of fa...
ts are called unsaturated fats, and can be found in oils like olive and canola oils, nuts and seeds. These fats can help your body get rid of cholesterol. Saturated fats often have had hydrogen added to them to make them more solid. Other saturated fats are found in cream, butter and meats. They can raise your blood cholesterol. Its wise to learn which is which and check nutrition labels to make proper choices.
More