Fat molecules are made of atoms of carbon, hydrogen, and oxygen. Each of the separate atoms attaches to the others only in precise predetermined ways. The backbone of a fat is a chain of carbon atoms (C).

Hydrogen (H) and oxygen (O) atoms can then attach to the carbon. A saturated fat is a fat molecule in which all of the available binding sites are occupied by another atom. In other words, the carbons are saturated with all of the atoms they can hold: An unsaturated fat has one or more bonding sites left unoccupied. The two neighboring carbon atoms take up the slack by forming a double bond.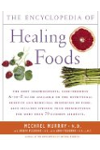 More About this Book
Encyclopedia of Healing Foods
From the bestselling authors of The Encyclopedia of Natural Medicine, the most comprehensive and practical guide available to the nutritional benefits and medicinal properties of virtually everything...
Continue Learning about Fats