To stay healthy, it is important to eat a well-balanced diet low in saturated fats. A Mediterranean, heart-healthy diet rich in olive or canola oil, fresh fish, lean meats, red wine (in moderation), whole grains, walnuts and fruits and vegetables helps decrease bad cholesterol and your risk of developing heart disease and diabetes.

Nonfat Greek yogurt is highly recommended and can be eaten for breakfast every morning with a scoop of blueberries (which is full of antioxidants). Make sure there is no added sugar in the yogurt. Also, choose healthy snacks when you are hungry between meals.
Simple ways to reduce saturated fat:
Avoid all French fries, onion rings, and other fried vegetables.
Eat your vegetables steamed, baked, grilled, or sautéed in a little olive oil.
Top baked potatoes with a mix of one part reduced-fat sour cream to two parts plain low-fat yogurt. Or use 0% fat Greek yogurt (such as Fage or Stoneyfield Farm's Oikos), which is thicker than regular yogurt and surprisingly creamy-tasting.
Use the treat calories established in Phase One for cookies, cake, Danishes, and other sweet baked goods. Check the serving size on labels carefully; you're not going to get much of these foods for the number of calories and carbohydrate grams allotted.
Skip croissants, brioches, and other buttery pastries entirely; it's too hard to have just a little piece.
Add canola oil instead of melted butter to your pancake batter. Top with a little spread with no partially hydrogenated oil, such as Smart Balance Buttery Spread.
Skip creamy sauces, such as Alfredo and cheese sauces, on pasta unless you find a low-fat version or make it yourself with 1% milk and very-low-fat cheese.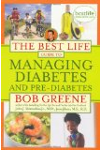 Switching from saturated and trans fats to healthy fats or less fat is one of the most difficult things we face when trying to improve our diet. For optimal aging, our diet needs to be no more than 25 percent fat. However, most Americans get much more than that. One way of cutting back on saturated and trans fats and calories is eating them in a certain way. Try to eat a little bit of fat (perhaps a little whole grain bread dipped in olive oil or, even better, a few nuts) at the beginning of the meal. It will help you feel full faster, and you will end up eating fewer calories. The little bit of fat prevents your stomach from emptying. The ideal amount represents approximately 60 to 75 calories: one-half tablespoon of olive oil or canola oil, six walnuts, twelve almonds, twenty peanuts, or half an ounce of cocoa-based chocolate or avocado spread.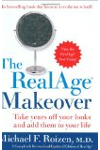 To reduce your saturated fat intake, skip red meat, butter and other full-fat dairy products, coconut oil, palm oil, and shortening. Go easy on eggs, too. Too much saturated fat drives up total cholesterol and artery-clogging low-density lipoprotein (LDL) or "bad" cholesterol. Keep saturated fat to a minimum -- no more than 7 percent of your daily calories. That's 11 to 14 grams for women and 14 to 17 grams for men.
Medical guidelines suggest you should reduce the amount of saturated fat you eat to keep your cholesterol in check. Saturated fat is found in animal products, including meat and whole-milk dairy foods. To cut back on saturated fats, try these cooking tips -- they're a healthier way for the whole family to eat:
Rely on spices and other seasonings instead of fat for flavor.
Select poultry, fish and lean cuts of meat.
Remove the skin from chicken and trim the fat from meat.
Use low-fat cooking methods like poaching, baking and broiling instead of frying.
When sautéing or stir-frying, use monounsaturated fats such as olive oil, canola oil, peanut oil, sunflower oil and sesame oil or substitute bouillon.
Use low-fat or non-fat yogurt, sour cream and cream cheese instead of the high-fat varieties.
Check the nutrition facts label which is required to list the amount of saturated and trans fat in food products. A food label that indicates 0 trans fats means the product has less than .5 grams of trans fat per serving. Watch your portion size of foods that have partially hydrogenated listed in the ingredient list, as these are typically products that will have some trans fats. Stick margarine will have more trans fats than a tub margarine and butter has more saturated fat, so your best bet is to use a tub margarine to get the least amount of both saturated and trans fat. Animal products like beef, pork, lamb, butter, and milk naturally contain trans fat but it is a different form than synthetically produced trans fat found in refined/packaged food (cakes, cookies, crackers, snack food and fried fast food). Saturated fat is mostly animal based from full fat animal products-meats and dairy as well as tropical oils and hydrogenated fats.
Continue Learning about Fats