Try to keep your intake of saturated and trans fats (the "aging fats") down, no more than 20 grams of saturated fats per day and no more than 2 grams of trans fats per day (based on consumption of 2,000 calories per day). (You'll need to keep track but don't have to be exact.) Eating more than this amount correlates with arterial aging and cancer, especially breast and prostate cancer. Saturated and trans fats also sap your energy right away and on a long-term basis. By eating fewer than 20 grams of saturated fats and 2 grams of trans fats a day out of approximately 65 grams of total fat a day (the rest should be healthy fats), you can make your RealAge (physiologic age) as much as six years younger.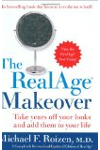 Continue Learning about Fats
At 9 calories per gram, fats can add up quickly in your diet, yet experts recommend that you get only 7% of your calorie intake from fat. Fats also affect your cholesterol, and there are both good and bad fats. The best kind of fa...
ts are called unsaturated fats, and can be found in oils like olive and canola oils, nuts and seeds. These fats can help your body get rid of cholesterol. Saturated fats often have had hydrogen added to them to make them more solid. Other saturated fats are found in cream, butter and meats. They can raise your blood cholesterol. Its wise to learn which is which and check nutrition labels to make proper choices.
More