For years, fat has gotten a bad rap. Americans have repeatedly been told to eat a diet low in fat, but this common nutritional advice fails to take into account that different kinds of fat affect our bodies in different ways. There are two major types of natural fats -- saturated and unsaturated. (Unsaturated fats can be further classified as either monounsaturated or polyunsaturated.) A third type of fat, trans fat, is created in the manufacturing process of many commercially prepared foods.

Unsaturated fats -- the kind in olives, nuts, avocados, fish, and vegetable oils -- are "good" fats that help our bodies absorb the nutrients in our foods and lower the risk of heart disease.

Saturated fats are found in foods such as whole milk, butter, cheese, red meats, and coconut. Standard nutritional advice recommends limiting saturated fats in our diets because they are believed to contribute to high blood cholesterol levels, which are linked to heart disease. While there is some controversy about how important it is to limit saturated fat, most nutritionists suggest substituting low-fat dairy for full-fat products and limiting our intake of fatty meats.

Trans fats, on the other hand, are clearly "bad" fats. These fats, also known as hydrogenated fats, are found in many commercially prepared baked goods, margarines, snack foods, and processed foods. All foods that list partially hydrogenated oils in the ingredient list contain trans fats. New government regulations mandate that trans fats be listed on all food labels. Trans fats contribute to heart disease and should be eliminated from our diet, whenever possible.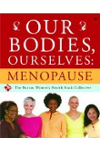 More About this Book
Our Bodies, Ourselves: Menopause
FROM THE EDITORS OF THE CLASSIC "BIBLE OF WOMEN'S HEALTH," A TRUSTWORTHY, UP-TO-DATE GUIDE TO HELP EVERY WOMAN NAVIGATE THE MENOPAUSE TRANSITION For decades, millions of women have relied on Our...
Continue Learning about Fats