Getting a good balance of omega fats is pretty easy. Think of your omega consumption as an orchestra -- all the different omegas playing together make the sweetest music. Whether food or supplement, consider making the choice that provides an array of omega fatty acids. After all, a whole-food approach to nutrition will help ensure you get omega-5, -7 and -3, -6, -9 for optimal health.

Simply reduce your consumption of processed and chemically laden foods; also reduce the use and consumption of polyunsaturated vegetable oils (e.g., corn, sunflower, safflower, soy, and cottonseed). Switch to extra-virgin olive oil as much as possible (it's heat-stable so use it to cook, too). Eat more oily fish (salmon, sardines, herring, mackerel, black cod, and bluefish) as well as walnuts, flaxseeds, and omega-3 fortified eggs. Consider supplementing with a true fish oil like one from wild salmon, which will deliver all the omegas found in this fish naturally.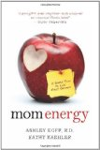 More About this Book
Mom Energy: A Simple Plan to Live Fully Charged
       From celebrated dietitian Ashley Koff and fitness trainer to the stars Kathy Kaehler comes Mom Energy, an exciting new way for moms to tap into their own natural and renewable sources of...
Continue Learning about Fats