As a matter of heart health, it is recommended that no hydrogenated peanut oil be consumed. Although most major peanut butter manufacturers use hydrogenated stabilizing oils to keep the oil and protein from separating, these products are hazardous to the cardiovascular system. A much better choice is to purchase peanut butter that uses only peanuts. Even better is to grind it yourself, as many more health-conscious markets are providing this option. Once opened, freshly ground peanut butter will last up to two months. Unshelled peanuts can be kept in a cool, dry place or in the refrigerator for up to six months. Peanut oil should be purchased in small quantities in dark glass or plastic bottles and stored in a cool, dry environment, where it can keep for up to three months.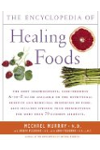 More About this Book
Encyclopedia of Healing Foods
From the bestselling authors of The Encyclopedia of Natural Medicine, the most comprehensive and practical guide available to the nutritional benefits and medicinal properties of virtually everything...
Continue Learning about Fats