Fat is critical for human health and it provides satiation which means it diminishes your appetite. What this means is if you want to lose body fat you first control your intake for total calories making sure that you are eating less than you need on a daily basis. The next thing that you do is that you make sure you have a good balance of macronutrients in your diet. This means a good balance between proteins, carbohydrates and fats. The fats should be approximately 20%-30% of your total intake of calories and should contain mostly "good for you fats". The fats that are most prevalent in nuts, fish, certain fruits like avocados etc.
In sumo champions and Dove chicks, a little extra fat can produce good results. But I also think that fat has an unfair knock against it. Fat is treated a little like a felon—it has a bum rap.

Fat produces a chemical signal in your blood that tells you to stop eating. Left to its own devices, fat is self-regulating; the problem occurs when we override our internal monitoring system and continue to stuff ourselves long after we're no longer hungry. Your body knows when it's had enough and it prevents you from wanting any more food on top of it.

How does fat curb appetite? Through one of the most important chemicals in the weight-reduction process: leptin, a protein secreted by stored fat. In fact, if leptin is working the way it should, it gives you a double-whammy in the fight against fat. The stimulation of leptin (which comes from the Greek word for thin) shuts off your hunger and stimulates you to burn more calories. However, if you have leptin resistance, this system goes haywire.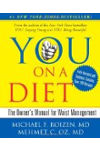 Continue Learning about Fats and Weight Loss