The slower you digest food, the slower your stomach empties and the fuller you'll feel. Although eating fiber is one way to do that, eating a little fat before a meal can be even more effective in keeping you full.

Simply, if you have a little fat before your meal, you'll prevent your stomach from emptying quickly. Example: If you have tea and unbuttered toast in the morning, your stomach empties in about 20 to 30 minutes, leaving you craving a mid-morning Doritos binge. But if you add some peanut butter or apple butter with your toast, it takes about three and a half hours for the toast to leave your stomach.

Feeling full slows everything down. I recommend eating a little fat at each meal but especially before your most gorge-prone meal of the day-dinner. Eat about 70 calories in the form of healthy monounsaturated fats. That's about six walnuts, 12 cashews, or 20 peanuts. The extra fat also has another advantage: It helps absorb fat-soluble nutrients like lycopene in tomatoes.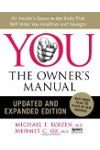 Continue Learning about Fats and Weight Loss