Macadamias are the highest nuts in total fats and calories, so they should only be eaten in moderation. They are, however, an excellent source of vitamin B1 (thiamin). Though their saturated-fat content excludes them from the FDA 's qualified heart-health claim, Pennsylvania State University researchers found that a handful of macadamia nuts a day reduced total cholesterol and LDL by about 9%. The effect may be due to the increased monounsaturated fat from a daily macadamia diet.
One of the reasons macadamia nuts have such a wonderful flavor is their high fat content (72 percent). Their protein content, however, is low (8 percent) compared to other nuts. Macadamia nuts are a good source of magnesium and potassium. They are also a good source of copper, iron, vitamin B3, phosphorus, vitamin B1, zinc, and vitamin E. One serving (10 to 12 nuts) provides 204 calories, 21.5 g of fat, 2.2 g of protein, and 3.9 g of carbohydrate.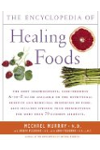 More About this Book
Encyclopedia of Healing Foods
From the bestselling authors of The Encyclopedia of Natural Medicine, the most comprehensive and practical guide available to the nutritional benefits and medicinal properties of virtually everything...
Continue Learning about Fat Content Of Foods