Each minute we are plugged in electronically means less engaging face-to-face time with our kids. Though there is no guarantee, fifty years of solid research shows that the best way to reduce risky behaviors and raise emotionally healthy kids is the strength of the parent-child relationship.
Here are parenting tips to help you unplug and engage more with your family.
Check online records. While you may have important business obligations, make sure you're not plugged in too much to risk crucial family interactions. So do an honest assessment on your typical daily online habits. How are you doing? The key, of course, is to find the balance that works for your family, and then stick to it.
Ask the kids. Have a courageous conversation as a family. Ask flat out: "Am I too plugged in?" (And be prepared for their honest answer).
Use voice mail and alarm features. While there are clear advantages to social networking, don't let the ease of an online connection steal precious minutes from your family interactions. Identify those key "family moment times." Then turn on your cell's voice mail features. Set the alarm on your computer that alerts you as to your online length.
Create "sacred times."
Kids say that family meals, school activities, sporting events, and after school (pick up and welcoming connectors) are when they're most bothered by their parents' networking behaviors. Identify your own family's "sacred times," announce them to your family, post them, and then preserve them.
Tune into silent signals. Kids usually don't give flat-out requests asking us to put down our Blackberries or close those laptops, but their behavior can indicate silent wishes. Each child has a unique way of letting you know they wish you'd plug into them more, so identify your child's signals, tune in and then plug in. When we asked kids how do you know your parent is listening to you? The answer was always: "She looks at me eye to eye." "He tunes into me and not his dumb iPhone."
Don't text and drive!
When teens were asked the million-dollar question: "Where did you get the idea it was okay to text and drive?" Their answer: "My parents do it all the time!" Research also verifies what teens say. We are texting and driving more than our kids, and it is sending them a potentially deadly message that it's okay to do so. So do not text and drive.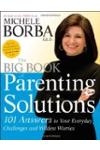 Continue Learning about Family Relationships