We live in an amazing time. Whether your extended family lives 2 miles away or 2,000 miles away, it's easier than ever to stay in touch. Cell phones, computers, and fax machines make staying connected to family members especially convenient for your children.
Establishing bonds and feeling the unconditional love family members have to offer is especially important to your children's developing identity and sense of self. It's also another source of guidance and wisdom if your child is ever afraid of talking to you about something. You might be surprised to find out what your 5-year-old told your sister, but never mentioned to you!
You can help your children nurture those family bonds by having them write Grandma and Grandpa e-mails or send letters the old-fashioned way. You could even send artwork via fax machine! Distance is no object when family members join an Internet group such as that offered on the Yahoo Web pages. Form a family group and then enjoy posting and receiving notes and photos. You can also program the phone numbers of aunts, uncles, and cousins into the telephone so children can call at the touch of a button.
Not only will your children benefit from staying connected, your family members will love it too.
From Good Kids, Bad Habits: The RealAge Guide to Raising Healthy Children by Jennifer Trachtenberg.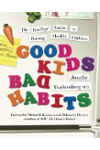 Continue Learning about Family Relationships